Fighting Homelessness
Addressing Homelessness - One Renter at a time
The effects of the global pandemic sent shockwaves through the Buy-To-Let (BTL) property sector throughout 2020, with a considerable increase in homelessness resulting from job losses and displaced individuals escaping from domestic violence.  
Rentsurance was designed and created for social benefit - encouraging the UK's private landlords to help house individuals and families, who are on state benefits - with no financial downside to the landlord. Whether your motivation is humanitarian, economic, or both, it is in society's best interest to reduce homelessness in the UK.
Rentsurance donate 10% of our annual revenues to homelessness charities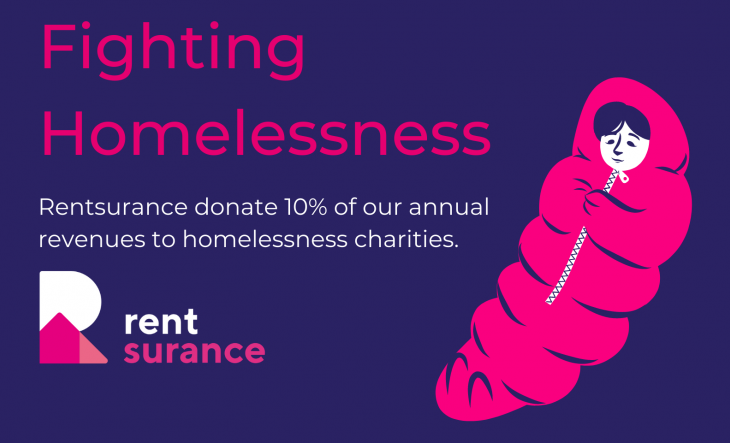 The purpose of creating Rentsurance is to reduce the risk to landlords, allowing them to rent to disadvantaged, unemployed, or vulnerable tenants with confidence - knowing that any potential financial downside is protected. 
This has two benefits. On the purely practical side, this opens up a massive market of renters to landlords. Potential tenants, you may have had to turn away because of poor credit scores, a lack of regular employment or other risk factors are now potentially profitable tenants. You are less likely than ever to suffer long-term empty properties and insure any tenant on state benefits - irrespective of background.
On the humanitarian side, it isn't just about putting roofs overheads. For people to invest in themselves and their families – to get the training and opportunities they need to better themselves – they need a stable home life. They need to know they have a 'home', not just a shelter. With a stable home and a proper address, they can get work and qualify for better, higher-paid roles. Their children will grow up in a safe environment and go on to break away from the poverty trap.
No matter how you look at it, making these homes available to needy tenants helps. It helps tenants in difficult situations dig themselves out of those situations. It allows landlords to rent out properties without worrying whether they will be paid, and it helps get more qualified workers back into the economy when it is most needed. 
Help join our revolution in fighting homelessness in the UK for a better tomorrow.