How it Works - Rent Guarantee & Legal Expenses for Universal Credit tenants
Simplified process to quote and buy in just 90 seconds with instant cover and policy documents.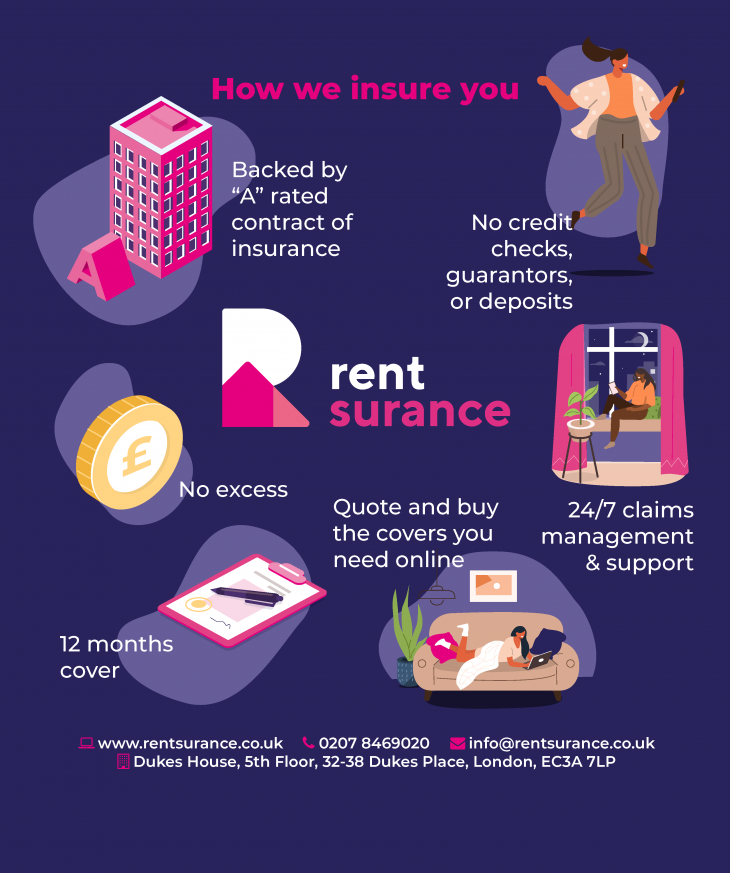 We have made the process simple, with no strings attached.  An average policy takes just 90 seconds to quote and buy through our insurtech Dwello platform, with instant cover and documentation.  
Frequency Asked Questions (FAQs)
We have listed out the most common questions asked from our clients and partners to help you understand our product.  If in doubt, please email us - support@rentsurance.co.uk
Question:  The tenant is unemployed and on Universal Credit – can I still take out cover?
Answer:  Yes, our whole insurance programme has been created around unemployed individuals on Universal Credit.
Question:  Why would Temporary Accomodation Providers use Rentsurance?
Answer:  Most Temporary Accommodation Providers (TAPs) rent properties from private landlords and then sub-let to Universal Credit tenants.  Sometimes, TAPs are unable to find a tenant, the tenant leaves mid-way through, or there is a change in circumstance with the tenant which would change the Universal Credit amount due – with the void being picked up by the TAP.   
Also, if there is an eviction, the TAP would be responsible for the legal fees (all at the same time, paying the landlord the guaranteed rent!).  Other reasons often include TAP not wanting to run the financial risk of damage to the property (accidental or caused by the tenant), emergency call outs and any rental voids.  
More private landlords (and lenders) are requesting TAP to obtain associated insurances to best protect their interest.    
Question:  What's the difference between a lettings agency offering me a rent guarantee scheme and Rentsurances' Rent Guarantee insurance?
Answer:  It's quite literally in the name!  Our product and solution is a contract of insurance, underwritten by RSA Group, complete with claims management and support.  This gives you complete peace of mind and control throughout the process and best of all - no policy excess applicable.  
A letting agent on the other hand is a generally an organisation, promising you pay you rent under a head lease agreement - meaning they can sublet, normally on very tight margins – leaving no room for property damage/voids.  More commonly, many landlords do not factor in the 'post-agreement' hand-down when the property is returned in a dismal condition whilst inheriting the non-paying original tenants. 
So the difference being - we are a contract of insurance with legal expenses and rent guarantee and agents are a commercial agreement.
Question: Will a local authority be involved during a claim process?
Answer:  Entirely up to you.  The whole claims process will be dealt with by our fully trained, UK based claims team, who are available 24/7.  Please refer to your Policy Schedule in how to claim, ensuring to quote your policy reference number at all times.  
Question: Will the tenant be required to provide a guarantor?
Answer:   No. The tenant is not required to provide a guarantor, deposit or rent in advance.  Our product is bespoke to Universal Credit tenants who would not have guarantors.  
Question: Who will remind the landlord when the policy is due for renewal?
Answer:   We will contact the landlord directly 4 weeks before the policy is due for renewal.  We will never take funds from your card, nor would we automatically renew without your pre-consent.  You can amend your policy details on the Dwello platform at anytime during the policy period. 
Question: What if the tenant carries over a Housing Benefit 'overpayment' from a previous address which is being recovered from their Housing Benefit at the new address. Will this shortfall be covered?
Answer:  Overpayments from previous addresses are excluded and should be resolved, where applicable with the Local Authority.
Question: What is the time limitation when a policyholder can make a claim?
Answer:  You can make a valid claim anytime during the policy year.  Please ensure you report any claim to us immediately and without delay to ensure we can verify all claim details for prompt settlement.  
Question: Can I obtain insurance cover after the tenancy has started?
Answer:   Yes, provided that there are no rent arrears at the date the cover starts and all tenancy information has been completed.
Question: Does the policy insure the property or the tenant?
Answer:   Property.  
If the tenant moves out half way through, just update the policy details with the new tenant information by logging into Dwello.  
If you are a tenant who has taken a Tenants Liability policy - this insurance is designed to cover the property for any accidental damage caused by you during the tenancy period.  
Question.  How do I take out a new policy on a portfolio of properties?
Answer: 
Sign up to Dwello and enter your details to create a new account;
Input your property details and tenant information;
Have your payment card ready for payment (you will only need this for the first policy)
Upon successful payment, you will receive confirmation of cover and cover documentation;
You can enter additional property and tenancy details using the same card (you will not need to re-enter the card details);
All policy document would be available for you to review and download on the Dwello portal for each property.  These documents would also be emailed to you. 
Question: Is this an actual insurance policy?
Yes. The policy is underwritten by RSA Group who are an 'A' rated global insurance company.  
Question. Do I have any redress, for example if the insurer didn't pay me out or challenged my claim?
Question:  Does this policy cover HMO tenancies?
Answer:  Yes, as long as a valid HMO agreement/AST is in place and all usual tenancy information has been submitted. 
Question: Who pays for the policy?
Answer:  Typically speaking, the policyholder.  However, lettings agent, temporary accommodation providers and Local Authorities often purchase this cover on behalf of landlords as an incentive to house tenants on Universal Credit. 
Question:   Why do you donate your revenue to charities?
Answer:  We donate 10% of our gross revenue each year to UK homelessness charities to create awareness and eradicate homelessness in the UK.
Question: How many Home Emergency claims can I make in one policy year?
Answer:  Three (3).  Up to a maximum of £1,000 each.  This also extends to boiler cover, where we will replace the boiler in the event of a failure.  
Question:   Is there any excess applicable on any of your policies?
 Answer:  No.  Nil excess on Rent Guarantee, Legal Expenses and Home Emergency.  The minimum claim quantum is £200.
Question:  Why do you support homeless charities?
Answer:  Billions of pounds is spent on temporary accommodation each year, yet the homeless rate in the UK continue to increase.  A large contributing factor is the reluctance of private landlords (who are the biggest combined property owners in the UK) to rent properties to Universal Credit tenants – often due to the negative connotation.  Therefore, to create awareness to encourage private landlords to embrace social responsibility in society, we actively support and promote charities to increase awareness. 
Question: Are the policies in force during COVID-19 and are there any exclusions?
Answer:  Yes, all policies are in force and no COVID-19 / pandemic exclusions. 
Question: Can I cancel the policy half way through the policy year?
 A.  No.  All policies are an annual policy.  You can update tenancy details throughout the policy year by logging into Dwello. 
Question:  What jurisdictions are covered?
Answer:  England, Scotland, Wales & Northern Ireland
Question: Will the insurance company pay my rent if the tenant doesn't?
Answer:  Yes.  As long as it's a valid claim – we will pay up to £2,500 per month (up to 6 months), plus up to £25,000 in legal fees which includes eviction notices and legal documentation.  
Question:  Will my mortgage company accept Universal Credit tenants
Answer:  This normally depends on your lender, as they have a vested financial interest in the property. 
Interestingly, a rent guarantee 'scheme' from a lettings agent would not be sufficient, as this is an agreement that wouldn't carry much weight in the event of a dispute.   Universal Credit tenants are statistically considered to be higher risk (rent arrears, property damage and legal fees for eviction).  Mortgage companies have a commercial and legal interest in the property; therefore they would want to see that you have taken reasonable steps to secure a suitable insurance policy. 
Question: My tenant has CCJs or has a poor credit file, can I still get insurance with Rentsurance?
Question: What checks do you carry out on the tenants prior to agreeing cover?
Answer:  We carry out standard sanctions checks on.  Any other information provided on the tenant is the responsibility of the user/policyholder.  As long as they meet the Right to Rent criteria and have a valid AST and UC47 form - we can instantly agree cover. 
Question: When can I claim?
Answer:  There is a 90 day period where a claim would not be valid as we are aware that Universal Credit sometimes have delays in processing the first payment.  Therefore a claim (rent guarantee and legal expenses) would be valid from the 91st day onwards.  For example, if you submitted a claim on the 120th day of the policy - your Rent Guarantee would commence from the 120th day until possession of the property was achieved, or 6 months (whichever comes sooner).
Home Emergency has a 30 day period where a claim would not be valid. 
Question: The tenant is paid directly from Universal Credit - what do I need to do?
Answer:  When taking out the policy, you would need to upload the AST along with the usual proof of IDs of the tenant and valid UC47 confirmation email.  
Question: The tenant changed the Universal Credit payment so that it is paid directly to them - will this cause an issue?
Answer:  No.  However, you must send us a copy of the signed AST and UC47 email confirmation within 14 days of when you were first made aware of the direct payment.  
Question: We have a portfolio of policies to purchase, how can I do this?
Answer:  We can upload the property and tenant information on our portal if you are able to provide the information in an Microsoft Excel file. The attachments/supporting evidence (such as ASTs, Right to Rent checks, identification and UC47 confirmations) for each property will need to be uploaded by you within 14 days of policy inception.   
Question: The tenant works part time and receives support from Universal Credit for the rent - can I still take out cover?
Answer:  Yes.  As long as the tenant is earning more than x2.5 of his rental contribution.  For example, if the tenants' rental contribution is £100 per month, the tenant needs to be earning minimum £250 (x2.5) per month. 
Question: What happens if I have more than 3 Home Emergency Claims in a policy year?
Answer:  Our Home Emergency policy is designed to respond to a maximum of 3 claims per policy year, per risk address.  Each claim is up to £1,000 each (£3,000 in total) with no excess.  Where the number of claims exceeds 3, our policy would have been exhausted and thus not able to respond.  
Question:  The tenant is unemployed and receiving Universal Credit – can I still take out cover?
Answer:  Yes, our whole insurance programme has been created around unemployed individuals on Universal Credit who are seeking housing. You will need a valid AST, Right to Rent checks, tenant identification and UC47 email confirmation.