Dedicated Claims Management for Landlords & Agents
Dedicated Claims Management for Landlords & Agents
An insurance backed solution - complete with 360 Claims Handling & Management 
With you for the journey
At Rentsurance, our policy is only good as its ability to handle and settle valid claims.  This is why we have regional UK call centres, operational 24/7 with our insurer partners that work with our policyholders in the event of a claim.  Our insurer panel have a UK wide network of contractors and legal professionals to help our valued policyholders during the often stressful time of submitting a claim. 
COVID-19 has had a huge impact on rent guarantee and legal expenses for landlords.  We stand by our policy cover and wording to help our policyholders navigator the claims process, every step of the way.  
As a part of that commitment to offering an exemplar service, we put client care at the centre of everything we do.  Not only will you get a dedicated claims manager who will have access to all of your data and circumstances. You'll have the benefit of our 24 hour call centres and our real-time claim updates on our Dwello platform.  Our call centres are all located right here in the UK, as is our insurer Claims Management department for a swift settlement. 
As part of our claims management solution, we work with trusted, capable employee, partners and insurer where we utilise specialist tools, technology and training to contact claimants directly. Arrange meetings or site visits if necessary, to help process your entire claim. This gets you the financial support to which you are entitled more quickly and ultimately allows you to reap the full benefits of your insurance policy. 
Making a Claim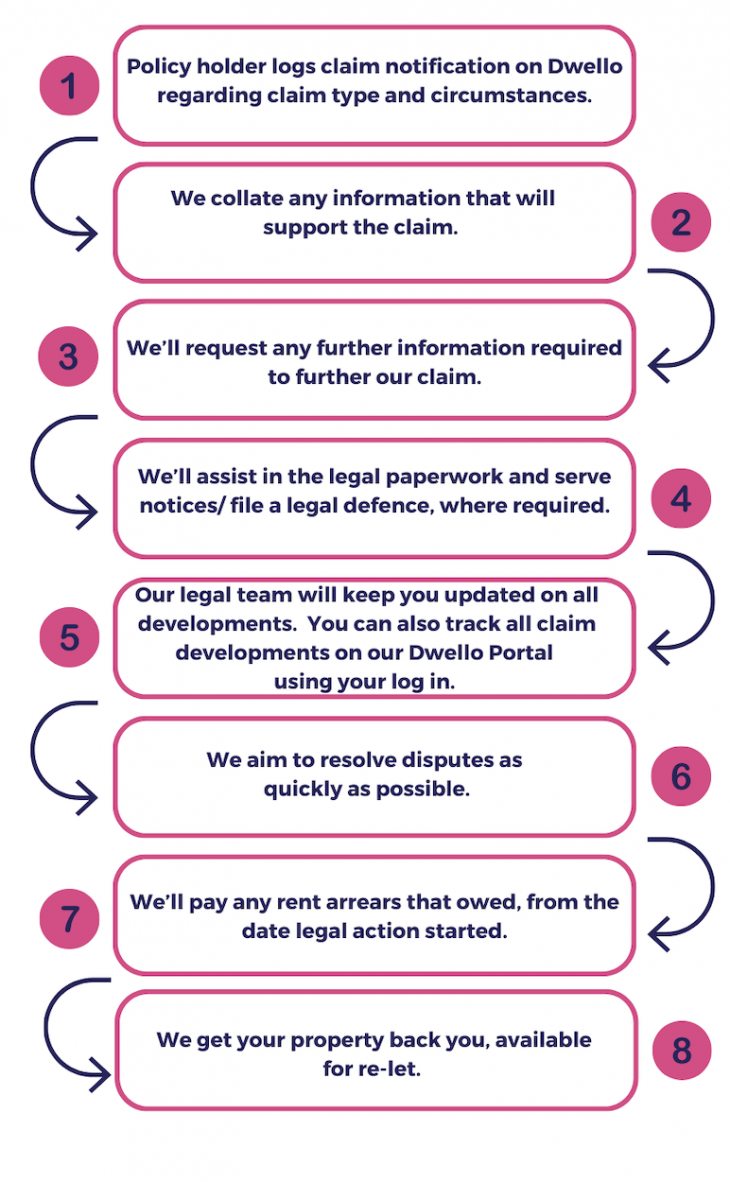 Home Emergency Claims
For any Home Emergency claims – please contact the emergency support line: 01384 884080which is available 24/7, 365 days a year in order to us to action your emergency claim as priority.  We will update all claim updates on the Dwello platform to keep you updated on all developments. 
Gas leaks must be immediately notified to the National Gas Emergency Service on 0800 111 999.
If you are unable to log into your Dwello account to either report a new claim, or obtain updates on an existing claim, please refer to your policy wording for emergency and out of hours contact details.  If you require any assistance, you may also contact us directly onclaims@rentsurance.co.ukor call 0207 8469020 during office hours.