Press Release | Rentsurance launches UK's first Rent Guarantee & Home Emergency 'InsurTech' platform
Press Release | Rentsurance launches UK's first Rent Guarantee & Home Emergency 'InsurTech' platform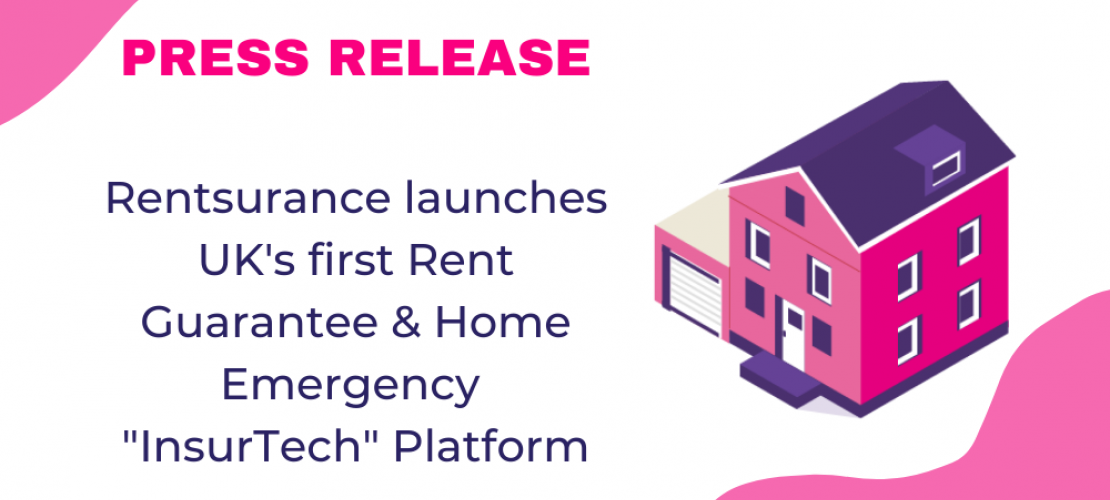 PRESS RELEASE
Rentsurance launches UK's first Rent Guarantee & Home Emergency 'InsurTech' platform, specialising in insuring landlords & property agents with unemployed tenants on state benefits.
13th July 2021 - Headquartered in the heart of the insurance district in the City of London, Rentsurance has launched the UK's first 'InsurTech' platform for landlords, property agents and local councils in offering insurance backed solutions for rent guarantee, legal expenses and home emergency cover. The compelling different with Rentsurance compared to other providers is that the scheme has been designed for landlords, agents and councils housing tenants on Universal Credit, often under the Private Rented Sector (PRS) scheme. 
Rentsurance overarching objective was to solve the chronic housing challenges that councils have in housing unemployed tenants. By Rentsurance, there would be no financial downside to landlords and property agents in that the policy coverage has been designed to cater for this audience/tenancy type. 
The average policy takes just 90 seconds to quote and buy through the insurtech Dwello platform, which is a proprietary technology platform, build and managed by Rentsurance, allowing user to quote, buy and manage all of their policies online.    
Rentsurance has partnered with Arc Legal Assistance Limited, an established, leading provider of BTE and ATE legal expenses insurance and assistance services in the UK. Arc Legal will support Rentsurance in providing Landlord Legal Expenses and Rent Guarantee cover and Property Emergency support for private landlords working with local councils placing tenants in council housing. With a shared vision to create a simplified insurance solution for landlords and agents (who are the most significant combined property owners in the UK rental market), the launch of the Rentsurance is set to help house displaced, unemployed tenants on state benefits throughout the UK, particularly at a time where the global pandemic have deeply affected local economies and increased unemployment in the hospitality sector  As company was strong values in corporate social responsibility, Rentsurance pledge to donate 10% of all annual revenues to UK homelessness charities. 
Nomaan Jamal, Head of Commercial at Rentsurance commented:
"We have developed a strong relationship with Arc Legal and trust them to deliver a range of legal expenses and assistance services that can meet the often-complex needs of our customers."
"The launch of Rentsurance will create an easy and simple insurance platform to allow landlords, property agents and local councils to insure any financial downside associated to housing unemployed and displaced individuals and families. In doing so, each year we donate 10% of our revenue to homelessness charities to help create awareness of the chronic UK housing shortage.  We are solving a genuine problem in the housing sector, which is so often brushed under the rug."
Arc Legal's Corporate Development Manager Richard Wronski added:
"We are really excited about this new deal with Rentsurance. The product package demonstrates our ability to work in close partnership with our clients to develop products and solutions that meet their unique needs, whilst delivering high levels of customer service. 
"This deal is an example of how our broker partners are benefiting from our greatly increased range of products and services in the home and property emergency arena. As we continue to grow and expand our expertise across new lines, we can assemble packages of legal expenses cover and add-ons that will respond to specific needs and add real value to clients."
ENDS
For further information on Rentsurance please contact:
www.rentsurance.co.uk
0207 8469020
Dukes House, 5th Floor, 32-38 Dukes Place, London, EC3A 7LP