Understanding Tenants on Universal Credit
Understanding Tenants on Universal Credit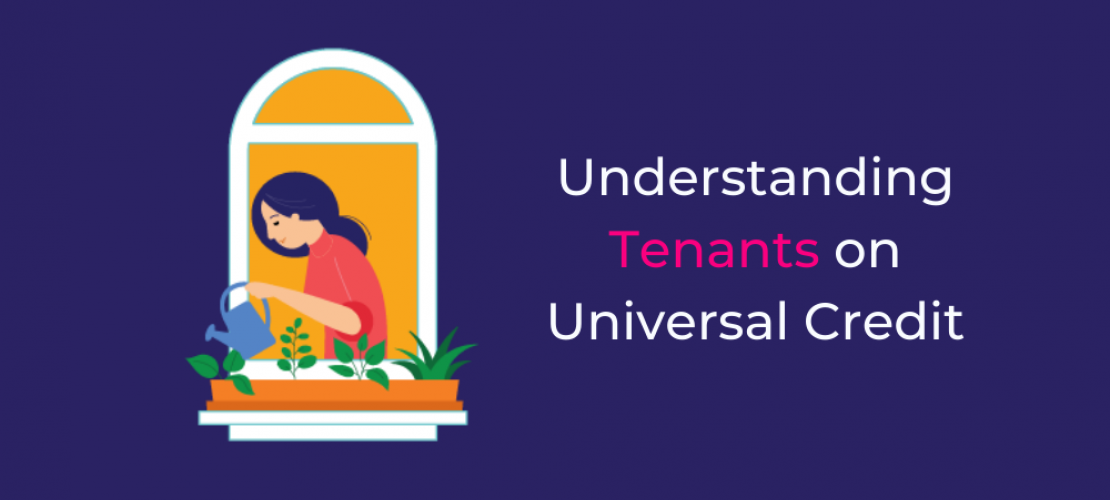 As the benefits system in the UK continues to change, expand and adapt, many property owners find themselves unsure how different benefits affect different tenants.
It is essential to understand your tenants and what kind of benefits they are on. This way, you can be aware of any potential rent risks living on your property and offer support for tenants who may need it.
In this article, we will be focusing on tenants who specifically receive UC (Universal Credit).
Universal Credit was originally introduced back in 2013 to simplify the UK's welfare system. January 2021 recorded that around 6 million people were receiving Universal Credit collectively across England, Scotland, and Wales.
As a result of the Covid-19 pandemic, there has been a 98% increase in people receiving UC. You may have even found that you are seeing more applications from potential tenants who receive universal credit or that a few of your tenants have begun to receive universal credit due to financial struggles.
What is Universal Credit?
Universal credit is designed for low-income or out of work and, therefore, struggle to make day-to-day ends meet.
UC is paid in a single monthly payment directly to a household and is often used to pay off housing costs. It is six benefits merged into a single charge. These benefits include:
Income support.
Income-based jobseeker's allowance.
 Income-related employment & support allowance.
Housing benefit.
Child tax credit.
Working tax credit.
How is Universal Credit calculated?
The amount a household receives is based on various factors such as income or individual circumstances. (e.g., is the individual unwell?)
Is rent reliable from a tenant receiving UC?
In Scotland, tenants can choose to have their housing costs paid directly to their landlord from the Universal credit payments.
In England, however, it is usually paid directly to claimants, and therefore it tends to be the tenant's responsibility to pay their landlord directly.
It is unfair to assume that because a tenant is on UC, they will not pay their rent. Many UC receiving tenants often pay their rent on time for the duration of their entire tenancy. However, if a UC tenant is having difficulties paying their rent, you can do things as a landlord to encourage on-time payments.
For example, if a tenant is having difficulty paying rent on time due to inadequate management tools, you can directly set up direct UC payments to the landlord called "Direct Rent Payment Service."
Can Universal Credit fully cover rent?
This will depend on A) your tenant, and B) the amount received via UC.
UC is not a single standard rent that all UC tenants received. Some tenants will receive a higher financial sum from UC than others. This will depend on personal physical factors, educational factors, mental factors, and their current income situation.
For some tenants, the sum of their UC credit will not cover the entire cost of their rent. However, some UC tenants may make enough to support their rent as UC is an additional benefit designed to support them because they earn under the cost of the rent.
If a tenant with UC needs additional support to help cover the entire cost of the rent, a service called "Discretionary Housing Payment" is designed to cover extra housing costs not covered by UC. This can be explored by contacting your local council representative.
Top tips for managing UC tenants and their rent?
Some UC tenants may need additional support from their landlords to help manage their monthly rent payments.
Always keep open a strong line of communication with all your Universal Credit tenants. This way, if they need extra support that will feel comfortable contacting you, you can rest assured of their financial situation.
As a property owner, you should send out regular reminders and keep track of all UC tenants' situations. It is essential to provide them accessible contact details and fixed payment dates.
For UC tenants who struggle with money management – manage the money yourself. You can offer to open up a direct debit designed to send UC funding direct to pay off monthly rent payments via your tenant's bank.
Let your UC tenants know their options and make them aware that there is more than one way to pay their rent hassle-free.