Our Products
Bespoke cover for Landlords, Agents & Local Authorities housing tenants on Universal Credit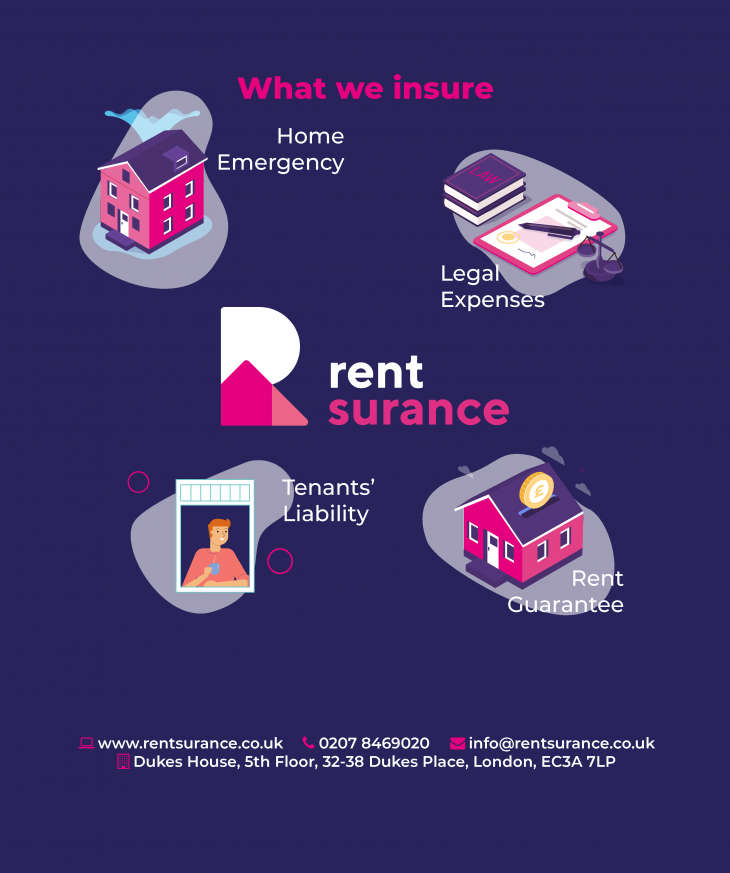 As with any specialist organisation, we focus on what we know. Our insurance solutions are bespoke to landlords and agents housing tenants on Universal Credit (previously known as DSS tenants), which are intended to keep landlords protected at all times and in all foreseeable circumstances, with no financial risk when the policy is activated.
Unlike other insurers who only cover Universal Credit tenants if the policyholder purchases buildings insurance, our products can be purchased stand-alone or as a package with Home Emergency and Tenants' Liability - giving the policyholder the freedom to select which products are best suited to the particular property in mind. 
Our products are suited to:
Flats/Apartments.
Houses.
HMOs.
Rentsurance Legal Expenses and Rent Guarantee
Our rent guarantee and legal expenses come together as a contract of insurance that ensure you received your rent, where your tenant on Universal Credit defaults on their rental obligations.  Furthermore, your legal expenses are covered up to £25,000 should you need legal defence and/or commence the eviction process, which we help you do.  All of this, with no excess applicable - thus will not cost you a penny.  
For further information on policy coverages and benefits, please visit our Legal Expenses & Rent Guarantee page.
Rentsurance Home Emergency Cover
Home emergency cover makes life easier for both the tenant and the landlord. If you need to call a plumber because a pipe has burst, an electrician to sort an electrical fault or a gas engineer to sort out something even more potentially dangerous, it will not cost you a penny, with our zero excess.  We have contractors on standby throughout the UK for all types of emergencies.  Furthermore, our Home Emergency product has boiler cover as standard, where we will even contribute towards the cost of a new boiler if the existing one cannot be repaired.
For further information on policy coverages and benefits, please visit our Home Emergency page.
Rentsurance Tenant's Liability Insurance
We understand the challenges for both tenants and landlords in ensuring that the landlords fixtures and fittings are protected - which can be difficult when housing Universal Credit tenants - particularly as the tenant is typically unable to pay a deposit.   Our tenants liability insurance is designed to cover the landlord up to £5,000 for any damage caused by the tenant.  This product ensure neither the tenant or landlord are out of pocket in any accidental damage to the property - thus giving an added layer of comfort to the landlord.  Best of all, our specialist team of contractors will ensure the property is repaired, as new in the event of a claim. 
For further information on policy coverages and benefits, please visit our Tenant's Liability page.
Our products are only half of our compelling solution to tenants, landlords, and agents, with our other half coming from our customer service and technology-led solution, allowing the policyholder to quote, buy and amend policies anytime, anywhere!
We are experts in the property sector generally and in insuring 'high-risk tenants' specifically. We understand the difficulties and challenges faced by landlords, agents, and Local Authorities. This is why we have built up a reputation for rapid response, quick settlements, and absolute transparency.
Part of our commitment to customer service manifests as our proprietary Dwello portal. You can quote and buy-in under 90 seconds and manage all of your insured properties from a single dashboard. If you ever need to contact us – about a claim or any other reason – we have a UK-based call centre staffed 24 hours a day.