Home Emergency
Bespoke for Landlords housing tenants on Universal Credit
Our Home Emergency product is an insurance policy underwritten by RSA Group, an 'A' rated global insurer. 
The policy is designed to provide landlords and agents an immediate emergency call-out solution, 24 hours a day, 7 days a week, to keep your property and tenant safe in the event of an unexpected breakdown or emergency. 
Our Home, Emergency insurance policy has been designed to cover the cost of calls out and any reasonable repairs / remedial action, with no policy excess. Where the property is no longer inhabitable, we will cover the temporary cost of moving the tenant into a hotel until repairs are carried out.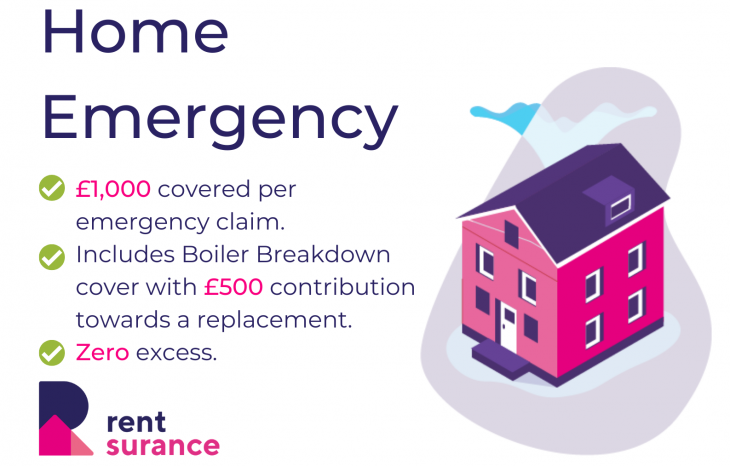 Inclusive Boiler Breakdown
Boiler Breakdowns are particularly frustrating to landlords and agents. Do you self-insure or buy a separate boiler breakdown insurance cover? As an added incentive, our Home Emergency cover includes Boiler Breakdown cover, including further policy enhancements such as up to £500 contribution towards the cost of a replacement boiler, should yours be deemed to be beyond economical repair. 
Our Home, Emergency insurance policy can be purchased online, with instant documentation available – either as a standalone product or alongside our Rent Guarantee and Legal Expenses insurance. 
As one of the widest home emergencies covers available in the market – we cover:
Access to Home.
Alternative Accommodation.
Alternative Heating.
Boiler Replacement.
Gas Supply.
Internal Electricity.
Pests.
Plumbing & Drainage.
Primary Heating Systems.
Roofing.
Security.
Water Supply.
For further information on how Home Emergency insurance cover works, either standalone or with our Rent Guarantee insurance, please contact us on info@rentsurance.co.uk or call 020 7846 9020 and see how we can help.