Tenants Liability Insurance
Tenants Liability Insurance
Insuring any damage caused to the landlords' property.
Tenant's Liability insurance can be purchased standalone or as part of our package with Rent Guarantee and Home Emergency products on behalf of tenants renting the property from landlords.  
The insurance policy would cover the landlord in the event of any accidental damage caused by the tenant to items that belong to or are provided by the landlord. This includes cover for furniture, fixtures or fittings that are already present in the property that is being rented, such as a fitted kitchen, bathroom, carpets and any furniture provided with the property. 
Tenants Liability insurance is often taken out on properties with valuable fit-outs, where the landlord is conscience of any potential damage that might occur.  
If you are a landlord or a tenant - why not protect the property against any accidental damage, for as little as £4 per month. This gives complete peace of mind to the landlord, or tenant, renting the property - knowing that they are covered for up to £5,000 of accidental damage.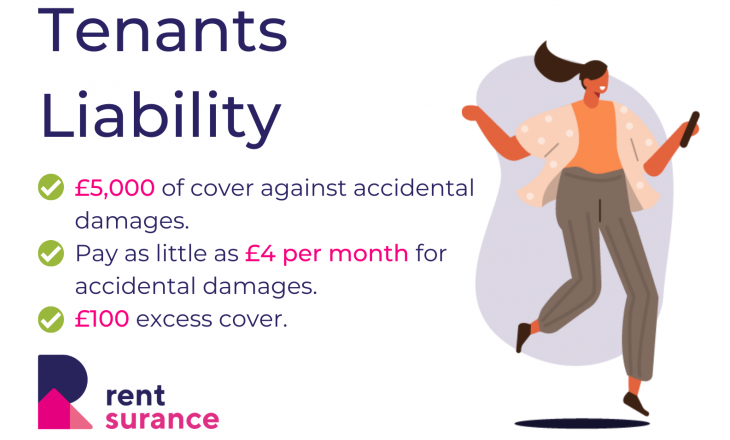 What's included in Tenants' Liability insurance?
Our tenants' liability insurance includes:
Furniture.
Fixtures & Fittings (Including bathrooms and kitchens).
White Goods.
Carpets & Soft Furnishings provided by the landlords.
Our tenant's liability insurance is in the tenant's name - meaning that only tenants can activate the policy where there is an unfortunate accident. 
If you're unsure or require some assistance, please call us on 0207 8469020 or email info@rentsurance.co.uk.